ECCG was delighted to be a guest of MSC Cruises on board their ship, MSC Splendida when she docked at Cobh Cruise Terminal yesterday for her third and final time this year.
Splendida was the fiftieth liner visit of the year to the port of Cork and arrived to beautiful weather that lasted all day up to and beyond her late, 9pm departure. The combination of this huge ship, the fine weather and it being a Sunday brought great crowds of onlookers to the harbour town just to get a glimpse of the ship and enjoy the associated activities on the quayside and in the town.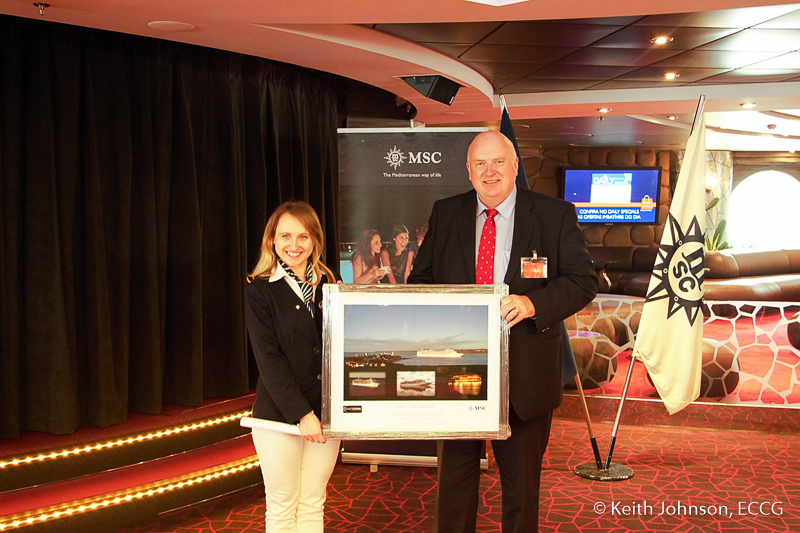 On board, we were taken for a beautiful meal in the very plush Villa Verde panoramic restaurant on Deck 6, following which we went to the Aft Lounge on Deck 7 for tea and coffee. During this we made a presentation of a framed series of images of the ship, taken in Cork harbour during 2015, to the ship's events manager, Ms. Anna Vakulenko.
At this stage we did a tour of the ship taking in the wonderful Aqua Park featuring four outdoor pools and one indoor pool with a retractable roof - ideal for cruising in our weather. We also visited the shopping mall and casino as well as the many restaurants and wellness/fitness centres. The Sports bar with its two bowling lanes was an interesting feature while the stylish Reception area with its waterfall and Swarovski crystal stairs was really classy.
As the bells of St. Colman's Cathedral rang out for 9pm, three long blasts of the ship's whistle announced her impending departure. With mooring ropes cast off and recovered, she was off the berth and moving downriver past the town, dipping her deck lights a number of times in farewell. A beautiful sight in the blue hour, she slipped almost silently around the Spitbank light and headed for Roches Point and out of the harbour on her way to Southampton.
Many thanks to MSC Cruises for the invitation on board and we look forward to seeing your ships back in Cork again next year.
Click here to see a full gallery of images from the day. Enjoy!