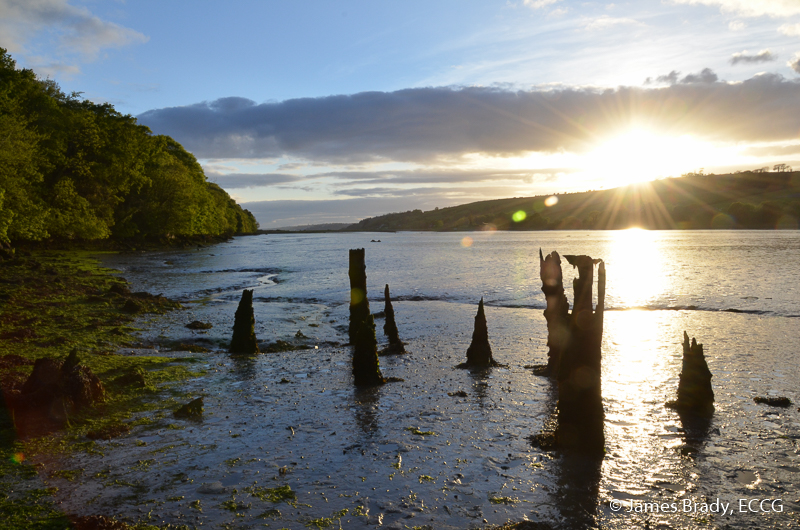 On Saturday evening 16/5/15, seven East Cork Camera Group members gathered for our weekly shoot, to explore the shorelines of Saleen and Lower Aghada for what turned out to be a very pleasant evening.
We began by setting off through Saleen woods, and set up for a sunset shoot on the northern shore. One particular item of interest in the picturesque scenery is a prehistoric tomb - Cromleach, or Dolmen called "Carriga Mhaistin", claimed by some to be the origin of the name Rostellan. Ros (headland), and dallan, or Dolmen. The Dolmen itself is approximately one thousand years old. With the sun low in the sky, some cloud cover and a low tide, some very striking images were captured.
Once the sun had set behind the headland, we made our way to Aghada GAA Club's grounds for our next venture, a light painting and off-camera flash workshop. Our subject for this shoot was a Folly Tower on the coastline facing Whitegate. This round tower, known as Siddon's Tower, was erected in 1727, and proved to be a very interesting feature for light painting.
With tripods and torches at the ready, we set about taking long exposures of the structure whilst adding creative touches of artificial light via torches, flashguns with coloured gels, and even green lasers. The creative juices were flowing and some brilliant images were captured, which can be seen in the gallery. Well done to all involved.
- James Brady
Click here to check out the Gallery.