'Easter' was the theme of the thirdd internal competition of 2016 held at the Midleton Park Hotel on Tuesday 19/04/16. Following two viewings of the nineteen entries, marks were awarded which yielded one of the tightest competitions in the recent past, especially in Grade A where the leader board changed several times with just the last few scores. The results were as follows: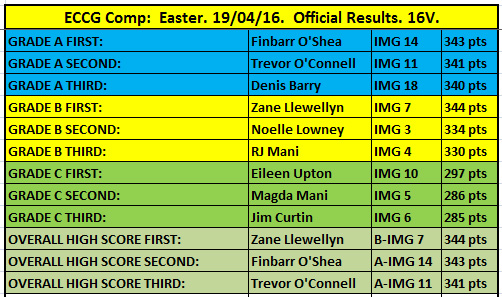 1st Grade A: Finbarr OShea
2nd Grade A: Trevor OConnell
3rd Grade A: Denis Barry
With only three points separating first and third, Finbarr O'Shea took first place in Grade A  while Trevor O'Connell and Denis Barry came second and third.
1st Grade B: Zane Llewellyn
2nd Grade B: Noelle Lowney
3rd Grade B: RJ Mani
Zane Llewellyn was first in Grade B with Noelle Lowney and RJ Mani in second and third.
1st Grade C: Eileen Upton
3rd Grade C: Jim Curtin
With continuing good form, Eileen Upton was first in Grade C with Magda Mani and Jim Curtin in second and third with only one point separating them.
In the overall high scores across all three Grades, Zane Llewellyn, Finbarr O'Shea and Trevor O'Connell took the honours.
Well done to all entrants, especially those new members entering for the first time, and congratulations to those who gained valuable points towards this year's Photographer of the Year competition.
The image below is the overall highest scoring image by Zane Llewellyn. Click the image to see all the entries. Enjoy!
See also:
How I took that Shot - Finbarr O'Shea
How I took that Shot - Zane Llewellyn
How I took that Shot - Eileen Upton
Competition Gallery
Competition Results and 2016 League Table