On a sunny afternoon July 19th 2015, ECCG explored the Copper coast - a stretch of coastal area between Dungarvan and the major seaside resort of Tramore Co. Waterford. This coastal area embraces wild and spectacular countryside with a wealth of secluded coves and beaches. This area of the South East of Ireland is well known for its rich geology and metal mining heritage notably the Tankardstown Copper mine with the Comeragh mountains as a backdrop.
We met up at Annestown where traditional thatched cottages and rolling countryside were abundant. After Annestown we set off to Guillamene outside Tramore, this area is a small sheltered cove with deep, clear, turquoise water with an open swimming and diving location. Traditionally, Guillamene was the designated men's bathing area and ceased being so in the 1980's. On the other side of the cove, Newtown beach was the Ladies swimming area. Nowadays men, women and children congregate in both areas for swimming, diving and other sea activities.
The ECCG's next stop was Killafarssey - a long cliff backed sandy beach with rocky outcrops which stretches for about a mile before curving around a rocky headland. Towards the western area there is headland with a distinct arch eroded through it. On the foreshore of the headland there are many features of coastal erosion in the form of free standing rocks and sea stacks.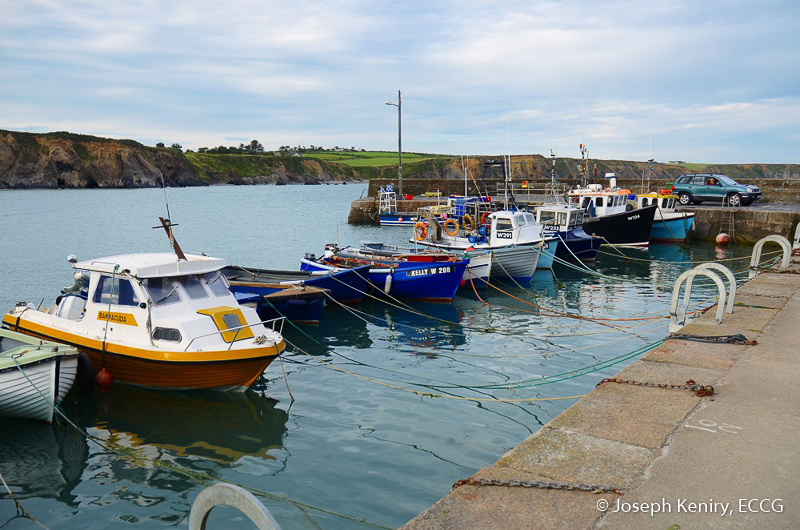 ECCG continued the coastal drive and stopped at Boat strand harbour situated in the midst of Waterford's historic 'Copper Coast and was built in the late 1880's. This tiny harbour with its many brightly painted boats has provided a living for Copper coast fishermen from earlier time's right up to the present day. The clear Atlantic water and coastal cliffs was ideal for the many seascape shots taken by the group.
The rugged Ballyvooney Cove was our next stop, an area located next to Gull Island and spectacularly set under a dramatic headland.  After Ballyvooney we headed to Stradbally cove, an unusual shaped cove protected by cliffs on either side with a long expanse of sand with a river on the left side running out to the sea.
Our final stop was Clonea beach near Dungarvan with its wide sandy beach and Ballinacourty Point lighthouse. As light drew to darkness we still managed to get some great shots of this beach area and afterwards some night scenes in Dungarvan itself.
This coastal area with its majestic and rugged coastal lines was an irresistible lure for us and our cameras were set to work with usual gusto to capture the magnificent seascapes and surrounding countryside.
See the full gallery of images from the shoot here. Enjoy!
- Noelle Lowney